The tide has changed...and I mean drastically! Sales use to wash in and close and then wash out back to the sea of contentedness...and now what's happening?
Fanny Mae, Freddie Mac are just not the same entities...they are now the boss.
We, as in Real Estate Agents and Brokers and Mortgage Brokers and Surveyor's and Inspectors and Title Companies are all trying to march to a different beat.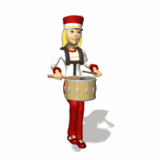 It's a new beat and the drums are rolling. Learn the facts, gain control and step up to the pump. (no puns about gas prices intended)
Remember allll the waaaaayyyyy back to Real Estate School? We were taught that we are there to "MANAGE" all forces that create a successful closing.
Consider yourself the cog of the wheel.
Without each and every spoke of the wheel connecting and supporting one another the cart would crash under the weight. Never before has it been more important for each and every one of us within our own "individualized businesses" to take responsibility of each step of a transaction as now!
Our market is shaky to say the least.
Any small glitch can and will interrupt your sale and your client's dream.
Stay on top of each and every detail required to close even if it is someone else's job.
Now is the time to begin to cover all bases which are many more than " the bases are loaded (4) "in the world of Real Estate.
If your deal is qualified...it just doesn't matter.
Lenders are looking for any small detail that may not fit the guidelines.
It's time for you to study, learn and practice. None of us are perfect but we must give it our best shot of practice or it just won't happen!
You executed a contract! Good for you.
If you want it to really happen then heed my advice.
Don't take your eyes off the ball!
Good luck....
Really, it's all up to you!
Later in the rain~Deb
       
**********************************************************************************
Check out my website at: www.debs-realestate.com.