Ike, The Bay of Pigs and Me and Bobby MgGee...
I do have a tendancy to become fearful of storms. Growing up just outside of Camp Atterbury as a young child caused a major impact to my personality. Camp Atterbury was being used at the time for the "test bombing" operations. We were not allowed to be on the street when they were actively bombing so when a loud siren would sound we would scatter down the street and I would immediately end up under my bed. This was the Kennedy era and we were taught to climb under our desks at the sound of the siren in the sanctity of our classrooms. As a child I (we) were being taught that bombs or missles could begin to fly at any time. We faced the fear of the Bay of Pigs. Even as small children and today a loud boom such as thunder can rattle my world.
I want to say thank you to all my Active Rain friends that have helped me get through Ike. Your phone calls and concern is truly endearing to me. Thank you for your encouragement and prayers. My husband put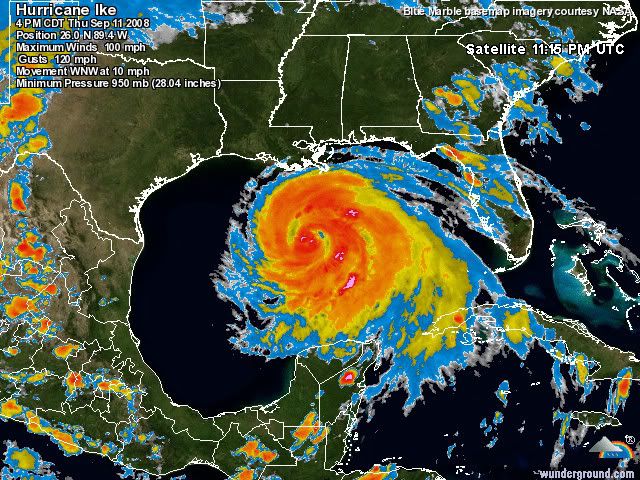 his foot down and made me go to my Aunt June's house in Wichita Falls. Now, I'm glad he did.
We have two houses on our property. One is the main house and the other is used as our office. Our main house miraculously made it through IKE unscathed. We lost a few trees and large limbs.
The office took a hit from a tree and is experiencing a roof leak...just minor in my book. Hubby and the animals made it safe and sound. They are without any electricity and he told me it looked a bit like a war zone.
My daughter, her husband and children are fine. One street over from her a tree went into a neighbors home and killed the lady inside. So, not all were as lucky as we were.
FEMA is bringing in MRE, "meals ready to eat" just down the road from our home so Scott is taking advantage of that. I, on the other hand, am having a wonderful time with my Aunt June and cousin Ruby! I worry, yes. But, he was right about not staying there.
I'M GOING TO HAVE TO OWE YOU THE SONG "ME AND BOBBY MAGEE" BECAUSE I'M ON DIAL UP! The song has been going through my head after hearing it on satellite radio on the way here. It warmed my heart and reminded me just how lucky I am to have this great network of friends!
I never thought I would appreciate dial up this much! I grow older by the minute waiting for the pages to load but hey....it could be so much worse. I am counting my blessings.
Thank you friends...hopefully we can get back to normal soon.
Later in the rain~Deb
       
**********************************************************************************
Check out my website at: www.debs-realestate.com.