I love Lucy, butt...My cousin Nancy and I were walking the authentic brick streets of Newport Indiana when she was 12 years old and I was three years younger. I was much more 10 than 9. I was very grown up.
Newport Indiana had (and still does have) a population of approximately 400. Believe it or not it was the county seat. This was our city. We walked the tree lined brick laid and cobblestone streets enjoying the blue sky's and the lack of any traffic. I am a lucky person. I have actually existed in a town with no-one. Everyone, (that was important to me) was there yet no cars were in sight.
There was always a person at the soda fountain to make us a Phosphate. I'm not sure where they came from. They were just there. Smiling and happy to serve us for our 10 cents.
It was a little bit Twilight Zone.
I would hop on top of a red covered swiveled round bar seat and rest my elbows on a black and white counter top while watching the waitress add green juice, ice and a clear soda to my Phosphate. Then she would place it under a big metal machine and would mix it with a fervor. She would then drop in ice, a cherry and voila...it was a Phosphate.
Nancy and I would sit and talk about everything. Our schools, our boyfriends, our parents and our wanting to spend more time with each other. We would dream of being able to be together always. It wouldn't happen but we stole every minute possible. Nancy was my cousin and I was an only child. Nancy was as close as a sister and I cherish every moment we had together.
We would hop off the bar seats with a smile on our green mouths and head back out to the square. Off to the next store that was the epitomy of perfection for children with money!
OMG, it was the candy isle of the General Store! We were in heaven. Candy, candy everywhere and we could afford a bag of it. We held in our hot little hands at least 20 cents each and this candy was a whole penny a piece. Wow. Heaven in the 1960,s.
I was a bit spoiled because I was an only child and my parents were raising just one.
I had a black and white TV (12 inch) in my bedroom. Not many other little girls could say the same.
My favorite show in the world, the one I wouldn't miss, the show I would hang the phone up for and the one I would go to bed for was...I Love Lucy!
What did Lucy teach me to do?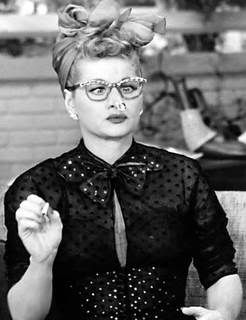 She, Ricky, Fred and Ethel all smoked cigarettes. My mom and dad smoked. The neighbors smoked. The news men smoked, the commercials were all about dancing cigarettes, Ed Sullivan smoked on camera and so did his guests, Johnny Carson smoked, my teachers smoked. Back then it was simply a way of life.
My purchase at the candy store included a pack of Candy Cigarettes...yes, the adults were ignorant enough to manufacture candy cigarettes for their children. Both my parents smoked...in Indiana...in a car...in the freezing weather...while I was wearing wool and riding in the back seat.
What does this mean? Oh yeah, an addiction. I breathed second hand smoke from the time I was an infant. I was addicted to nicotine by the time I could speak. Age 1.
I was a smoker before I ever had a cigarette.
I bought the candy cigarettes and I remember laying my head back, taking a fake puff, tasting the sweetness of the sugar, and deciding this was the right thing to do.
They got me before I even knew it. I was brainwashed and hooked.
I can still remember seeing the Marlboro Man the first time ever! He looked so strong and fatherly. The commercial made me think of one of my favorite songs...Home On The Range!
All this was in front of us along with the Saturday morning cartoons.
Yep, cartoons and Marlboro. Dancing cigarettes and men that would rather fight than switch...Hey Mulligan man, Roto Rooter, and Joe Cool, the Camel that taught us that is was cool to smoke and not cool not to smoke. Pure brainwashing.
Thank God we're wising up. Now, take the damn things off the market instead of taxing them obscenely and sending the money straight to the government. Quit preying on others addictions.
Just MHO! And, oh by the way, I DO LOVE LUCY.
Later in the rain~Deb
       
**********************************************************************************
Check out my website at: www.debs-realestate.com.